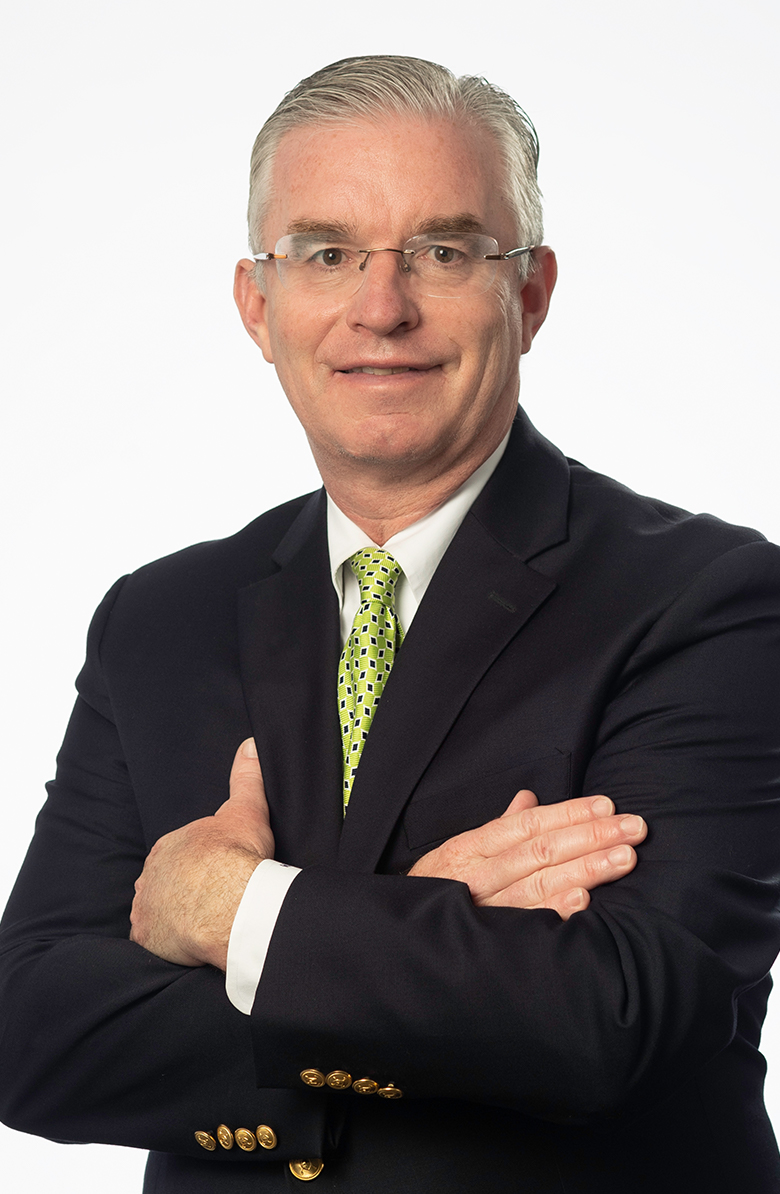 Senior Partner
Litigation; Land Use/Land Use Litigation; Loan Restructuring & Workouts
O: (617) 880-3454
F: (617) 692-3454
About Dennis
Dennis is the chairperson of the firm's litigation department and he is also a member of the firm's executive committee and co-general counsel of the firm.  Dennis' practice is focused on land use litigation, construction disputes, and complex commercial litigation. He has extensive trial, appellate, and arbitration experience as lead counsel.
Dennis represents a wide spectrum of clients as both the plaintiff and defendant, including real estate developers, construction companies, national and local financial institutions, public and private corporations, and closely held corporations and partnerships in all manner of real estate, construction, and business disputes.
Dennis has tried numerous cases, both jury and non-jury, before the U.S. District Court, U.S. Bankruptcy Court, as well as the Superior Court, District Court and Land Court of Massachusetts.  Dennis also represents clients in courts across the United States. In addition, Dennis has successfully arbitrated many disputes and has significant administrative hearing experience.
Dennis also is a member of the firm's real estate department with a focus on real estate development for commercial properties and multi-family housing in Boston and surrounding communities.
Represented the majority stockholders in the landmark case of Brodie v. Jordan concerning duties among shareholders regarding the purchase of the shares of a minority stockholder, at trial, on appeal to the Massachusetts Appeals Court, and then on further appellate review to the Massachusetts Supreme Judicial Court
Click here for a related story from the Boston Business Journal quoting Dennis McKenna.
Click here for the full text of the SJC decision.
Represented a real estate developer/construction company in a two week jury trial in a successful defense of claims of fraud, breach of contract, and Chapter 93A violations
Represented the Applicant in a Superior Court trial which resulted in the successful appeal of a special permit denial by the Boston Zoning Board of Appeal enabling the opening of the first retail cannabis facility in South Boston
Represented the Owner of a mixed use property in a Superior Court trial in a successful defense to an adverse possession and prescriptive easement claim made by a commercial abutter
Obtained a dismissal of an abutter's Superior Court appeal of a special permit and which dismissal allowed the redevelopment of 110,000 square feet of office space into a life science use
Represented developer in multiple simultaneous appeals before the Massachusetts Land Court, Massachusetts Superior Court, and administrative appeal before the Department of Environmental Protection regarding the development of an assisted living facility
Represented joint venture partner to a successful jury verdict in defense of a $13 million claim brought by partner
Represented European wine importing company and its stockholders in an arbitration brought by the disgruntled purchaser concerning alleged financial misrepresentations
Represented lender successfully in litigation involving a $98 million construction loan involving claims brought by the general contractor against the owner and lender for mechanic's liens claims, as well as unjust enrichment and Chapter 93A violations
Represented many developers in zoning appeals brought by the developers as well as by competitors, neighborhood groups, and abutters
Represented purchaser of manufacturing company in a trial to recoup purchase price paid as a result of misrepresentations made concerning the finances of the company
Represented national bank in lawsuit against numerous individuals and corporations who had defrauded the bank in an elaborate scheme
Represented mall owner in appeal to the Massachusetts Land Court of decision denying site plan special permit approval for rehabilitation of an existing mall
Represented many purchasers in successful lawsuits brought to enforce their rights to purchase properties from recalcitrant sellers
Represented condominium developer in successful defense of a lawsuit brought by the condominium association alleging multiple claims related to creation of and construction of the condominium
Represented numerous lenders in successful defense of substantial lender liability claims
Represented businesses in prosecution and defense of trade secret, noncompete, and unfair trade practice cases
Represented financial institution in lawsuit against an accounting firm for negligent preparation of borrower's financial statements
Homeowner's Rehab, Inc. v. Related Corporate V SLP, L.P., et al. 479 Mass. 741 (2018).
Maureen Murphy v. Jennifer Dadmun, Massachusetts Appeals Court (2022).
Mary M. Brodie v. Robert J. Jordan, et al. 447 Mass. 866 (2006).
The Renovator's Supply, Inc. v. Sovereign Bank, 72 Mass. App. Ct. 419 (2008).
The Bank of Western Massachusetts v. Justice Enterprise, Massachusetts Appeals Court (2008)
Beaconsfield Townhouse Condominium Trust v. David Zussman, et al., 49 Mass. App. Ct. 757 (2000).
Tuite & Sons, Inc., et al. v. Shawmut Bank, N.A., 43 Mass. App. Ct. 751 (1997).
Shawmut Bank, N.A. v. William J. Chase, 34 Mass. App. Ct. 266 (1993).
BayBank Connecticut N.A. v. Robert Kravitz, et al., 170 F.R.D. 343, 37 Fed. R. Serv. 3d (Callaghan) 685 (D. Mass. 1997).